Stage act 'Fun with the Bee Brother(s)'!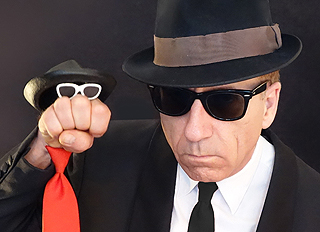 Using the classic 1970's film The Blues Brothers as their inspiration, 'Fun with the Bee Brother(s)'! uses mime, practical jokes, magic, and puppets and blues and jazz to bring to life this crime caper.
Searchlights cut through the darkness…machine-gun shots and sirens are sounding in the distance. Back in town, one of the Bee Brothers will show his best criminal side!
During a swirling act, the lure of money, women and liquor are more than once too big. Criminal skills and activities…this time you will enjoy it! An exclusive look behind the scenes of the descendants of Al Capone!
The 45 minute show is ideal for cruise ships and theaters. For festivals there's a shorter 15 or 30 minute format.
There will be performed by two players.
The show is completely non-spoken and for all nationalities.
it can be played on small and on large stages.
Technical requirements
for cruise ships and theatres:- a sound system with MD, CD or USB is needed, a wireless microphone systeem, one or two engineers for operating the light- and audiosystem (and when available a follow spot and a smoke machine). Optional there are files in different beamer formats on a stick for creating a nice background for the show.
for festivals and other outdoor events:-A sound system is required with two MD- or CD-players. ( when there are no MD-players available, Jonas & Friends will take their own MD-players).