Jonas & Friends performs with a lot of walkabout acts. They work with special objects, masks, puppets, funny vehicles and props with special effects… For the international market they offer you the walkabout act 'Wood & Wood', because this act is non-spoken and it's possible to transport the props by plane. Below the information of 'WOOD & WOOD' they will give you an idea of their other walkabout acts.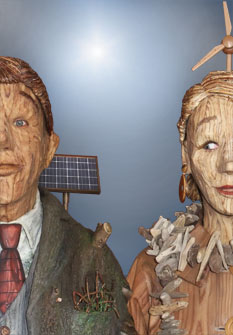 Walkabout act 'Wood & Wood'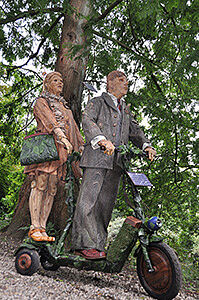 Sustainability is the buzzword of this generation, and nothing brings the issue of environmental awareness to life more powerfully than Wood & Wood. Performed in silence by two wooden people who walk through crowds, among trees, fields, and on stages, the walking characters enchant audiences with their intricate, life-like wooden movements and gestures.
Wood & Wood are made of 100% wood – and, of course, they have an ECO certifcate! Fuelled by wind and solar energy and equipped with their eco-mobile, these two masked characters wander through their wooden world clutching a grass suitcase filled with all their other bio-powered accessories Listen carefully! When they pass by you can hear their joints creaking!
During their travels they get up to all sorts of things: they greet a tree every now and then, tank up the sawdust in their heads and carve a heart into their wooden clothes.
Wood & Wood is non-verbal, mobile mime at it's best: fascinating, poetic and entertaining all at the same time.
Wood & Wood : wood that works to make your heart smile.
Practical information
Wood & Wood is suitable for festivals and corporate events ( trade fairs, for receiving guests during an event and as a walkabout act during sustainable events)
This mask characters are walking between the audience. Normally when we play this act we also use an electric eco-scooter. When we have to travel by plane we are not allowed to transport the eco-scooter because of the Li-Ion batteries. In that case Wood & Wood is played on two non-electric steps, also with a special green decoration.
More walkabout acts
For the Dutch market and the countries they can reach by car they perform with several other acts. Below you can watch some movies. For more information visit their Dutch website: www.jonasandfriends.nl/mobiele.acts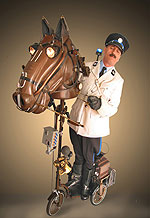 'The Mechanical Horse'
A police-officer, riding on a mechanical horse, is doing his duty when he is mingling with the crowd.


Butler on Steam JF-09
A puppet fueled by steam, and his brainy engineer, run a butler service with several little gimmicks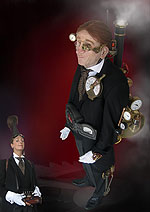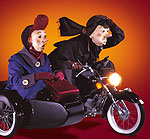 Harley Jr. masks
A comical mask duo is driving on their motor-bike, playing small scenes and are responsive to the people.

World's smallest organ!
An organ woman and her real looking monkey are showing you their miniscule little organ.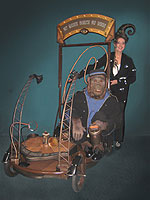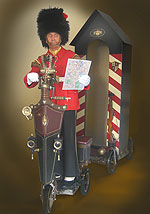 'The English Guard'
He is on his way to relieve the guard at Buckingham Palace. He does not know what course to pursue, so he asks the people for assistence.

Police motor-cyclist
A silly police motor-cyclist on his mini Harley is present at all kind of events ( parades, parties etc.)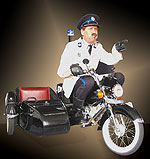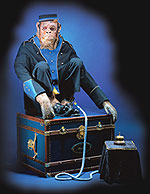 Benjamin the monkey
When people are arriving at the party they will meet this monkey at the entrance. They will wonder... is this animal real or not real?! This is what special effects can do!!