Walkaboutact 'The Blue Art Flower Family'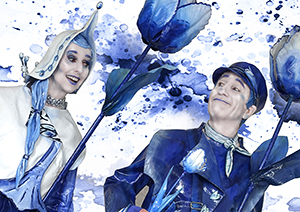 'The Blue Art Flower Family' wants to leave the places they visit more colorful. They leave flower bulbs everywhere, but where should they go with that giant flower bulb? Their motto; give lots of love and the growth and bloom are amazing! And that giving love really works is proven by the specimens that have grown into gigantic tulips. The smallest member has just come out of the bud and already goes along to every event in its planter annex carrycot . A special couple in blue white porcelain costume that is on the road with their colorful offspring from mini to XXL size!!
'The Blue Art Flower Family' is a non-spoken act, it can be performed as a walkact or as a performance act in one place with many subtle gimmicks supported by theatrical music. The regularly moving blue and white porcelain act is suitable for festivals, fairs, events with the theme 'flowers' (flower parades etc.), shopping areas, tourist purposes and more.